Online jewelry stores are challenging to promote. Customers value comprehensive, quality information. No matter how incredible the jewelry, if it is poorly presented, the purchase will not occur. This is especially true for high-value items.
Also, the jewelry sector is highly competitive unless you're selling something unique. Therefore, brand recognition, community mentions, and high-quality external publications are essential.
Brandcitations was contacted by an experienced SEO specialist from the agency rocketscience.global to promote a European company selling natural diamonds and precious stones. The specialist personally created an external promotion strategy for this project and chose our service for its implementation. The primary goal was to enhance the site's visibility in Google's organic search and boost organic keyword traffic.
Curious about the link building methods chosen for this project and whether we met our goal? Read our case study💬
Incoming data
Client`s project: Magnificent Antwerp Diamonds (MAD) is a diamond and gemstone trading company based in Antwerp, Belgium, operating since 2003.
The site's clients are jewelry designers, experienced collectors globally, and gemstone enthusiasts.
Project Advantages:
offer free services of professional consultants knowledgeable about jewelry;

all diamonds and precious stones are sourced from legal, conflict-free sources compliant with UN resolutions;

each gem comes with appropriate documentation;

special orders are accepted;

provides diamond and precious stone cutting services;

offers a free stone assessment service;

creates custom jewelry;

offers worldwide delivery.
At MAD you can buy:
white diamonds;

colored diamonds;

precious stones;

semi-precious stones;

paired stones;

mock-ups;

unique gems on request;

rare stones;

stones of specific characteristics like size, shade, cut, origin, etc.
Domain age: 2+ years. Started working with Brandcitations on August 26, 2022.
Region: the USA.
Language: English.
The link profile of the site: 31 domains, 456 backlinks.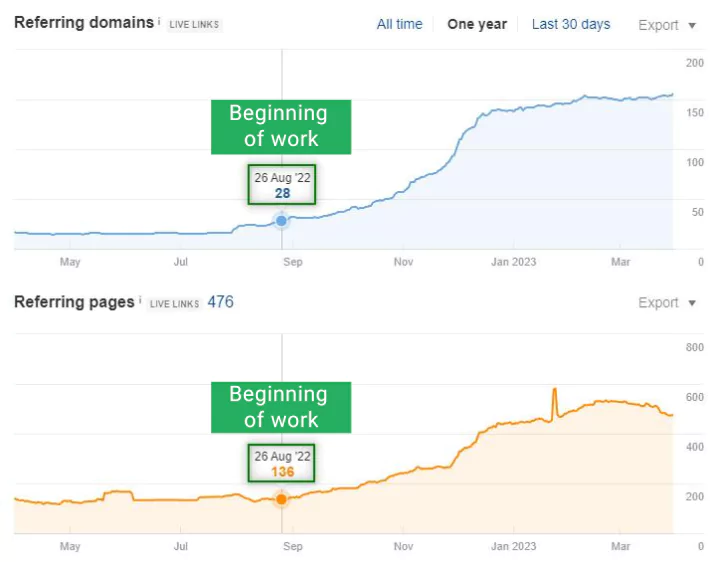 Anchor-list: small, formed.
Parallel work with the project on the part of the client: before placing the links, the site was technically optimized. Simultaneously with the work of Brandcitations, new content was created on the site. Guest posts were also purchased.
The task set to Brandcitations: to increase the number of backlinks to the project site from high-quality American domains.
Additional factors affecting the progress of the project
High project competitiveness. The market for precious stones is huge. Thousands of dealers offer a wide selection of unique stones every day. It is necessary to constantly identify elements that can favorably distinguish the project from competitors.

Content quality. Beyond having well-written and optimized text on the site and engaging guest articles, it is also essential to provide high-quality photos and videos. The more compelling visual content available, the better. This principle applies to external links as well.
Stages of work
Brandcitations managers analyzed the link profile and site metrics;

recorded data for further performance tracking;

determined with the client promotional landing pages and goals to achieve through link building;

selected and approved link building methods based on the budget and planned period of work;

distributed the number of links for the required period as per the strategy;

approved the list of anchors, surrounding text, and parameters for selecting donor platforms;

placed the first links, validated them with the client, and made corrections;

systematically placed the full volume of backlinks;

prepared a detailed report.
All work was carried out in the client's personal account.
Link promotion methods used for MAD
To achieve Brandcitations' goals, we collaborated with the client to select three link acquisition methods for the American market:
Forum links. Posting recommendation comments in relevant thematic communities is great for promoting jewelry-themed sites. It aids in boosting brand recognition, establishing a positive reputation, drawing the target audience to the site, and achieving necessary SEO metrics affecting visibility, traffic, and trust.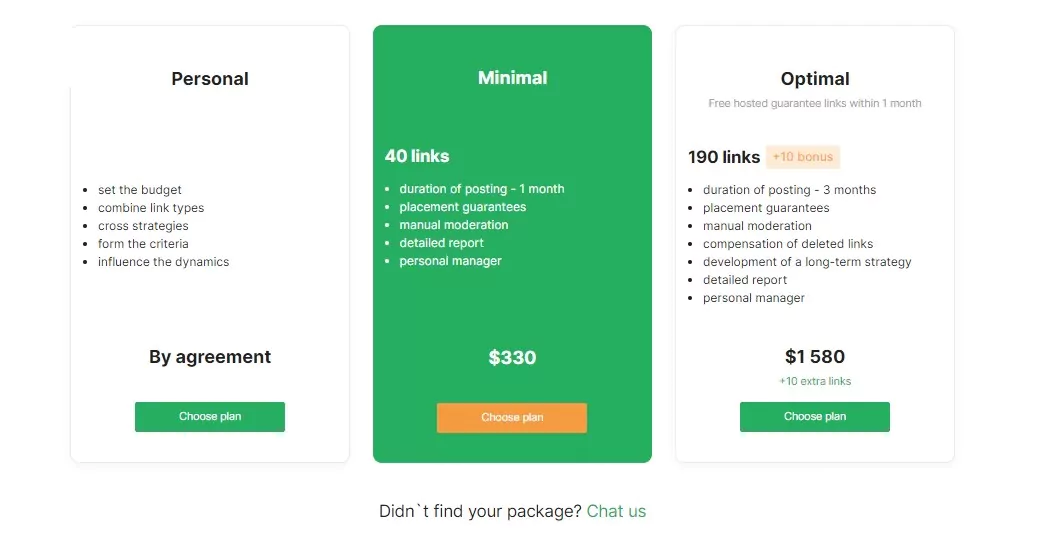 Local directories. Creating profiles and company pages in local directories can enhance the site's trustworthiness from Google's perspective and improve the site's ranking based on topic and geographical location.
Links from social profiles. These links also effectively enhance brand recognition and trust from the perspective of the target audience.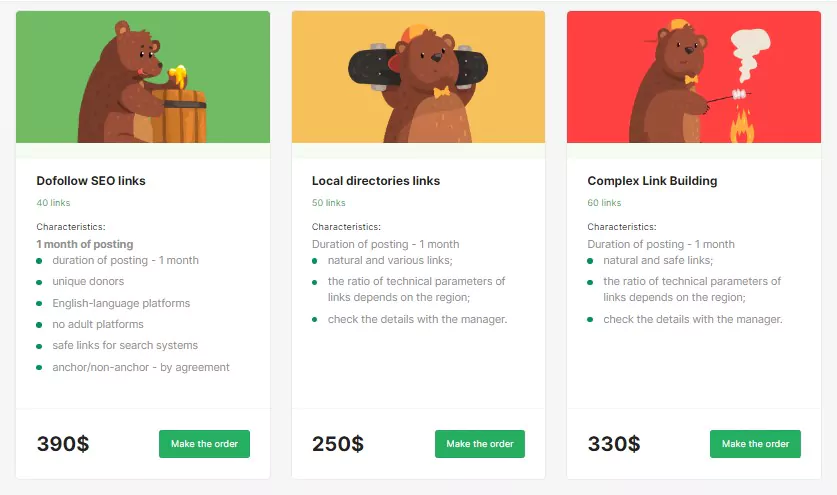 Client's requirements for link placement:
DR of at least 30 for forum links (by Ahrefs);

DR of at least 20 for directories and social profiles (by Ahrefs);

Traffic of at least 300 visitors per day;

3K keywords minimum (by Ahrefs).
Distribution of links by terms and methods (summary table)
LINK BUILDING METHOD
FORUM LINKS
DIRECTORIES
SOCIAL PROFILES
TOTAL

September

 2022
40
0
0
40

October

2022
40
0
0
40

November

 2022
40
0
0
40

December

2023
40
0
0
40

January

2023
30
10
15
55

February

2023
30
10
15
55
Total
220
20
30
270
The necessary number of links was spread over a period of 6 months using various link building methods to create a moderately growing link profile for the site.
Results
In six months of collaborative work between the SEO specialist and the Brandcitations team, we managed to:
Achieve more than 100% of the project's KPIs.
Increase organic traffic from Google search by 425%:
Increase of visibility in organic Google search by 1226%:
Attract clients from Europe and the USA (before that there were none at all):
Growth of the link profile by adding 121 donors.
Conclusion
As you can see, a comprehensive approach is effective for promoting jewelry-related sites in the US:
site refinement: texts, visual design, and functionality;

working with blog articles;

link building using various mechanics: crowd marketing, catalogs, social profiles, guest articles, etc.;

timely audit and strategy adjustment.
Also, outreach performs well in the US market.
The main factors include the quality of created content, appropriate selection of external platforms for links posting, and engaging experienced professionals to handle the link building process fully. Especially since Brandcitations offers a "complex link building" service, allowing you to dedicate time to more critical and creative tasks.
Would you like to receive a free link building consultation for your project? Sign up in our system. Our managers will analyze your site, link profile and create a customized link promotion strategy based on your budget and goals. We operate in over 40 countries worldwide in 10 languages😉