Promotion of large IT projects to Western markets is a big deal. Such sites require a special approach to developing a strategy and considerable budgets for their implementation. Long-term work with links for large sites in foreign markets brings great results if you act carefully and wisely. 
We were approached by the guys from OpenGeeksLab — a large B2B company with a staff of 80 outsourcers, a member of the IT Ukraine association.
OpenGeeksLab is part of the largest community in Ukraine, which takes an active part in the development of information technology and represents the region in the West. 
We approached the development of a link building strategy for this project carefully and with special responsibility, because one of the main tasks was to increase brand awareness for the English-speaking audience.
Find out how we promoted the OpenGeeksLab website and what we got as a result from our case study.
Introductory data
Project competences: Web development, mobile application development, custom software, UI/UX design.
Domain age: 5+ years. Created in 2015. Started working with Brandcitations in August 2019.
Promotion region: the USA (priority), France, Germany, UK, Australia. Worked in English only.
Link profile of the site: 171 unique referring domains.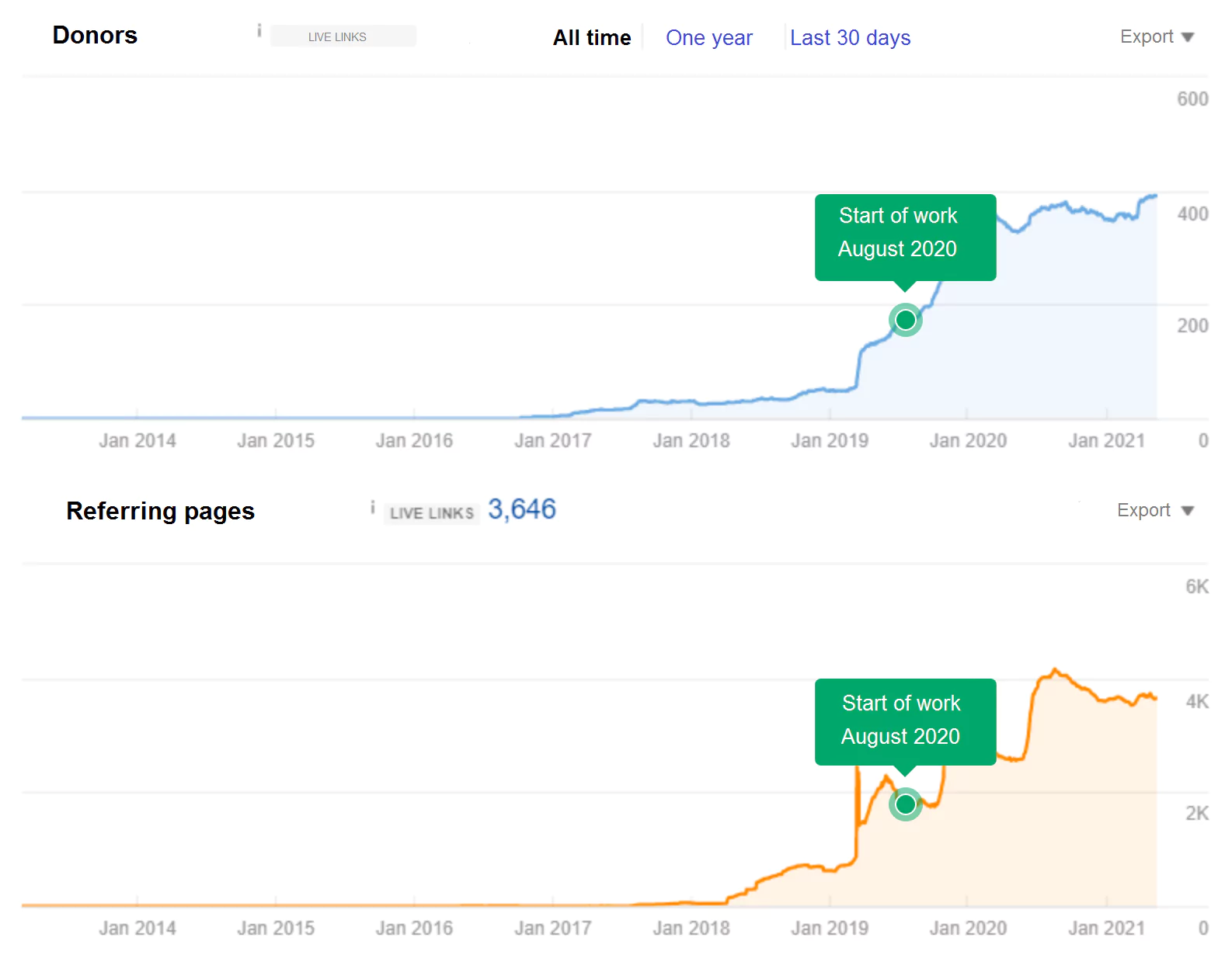 SEO traffic at the start: 400 visitors per month.
Benefits of OpenGeeksLab:
Extensive experience in software development, web development and design;

A team of professionals who are not afraid to take responsibility for their actions;

First-class service and results, which is very important for IT business;

One of the most talented developers in Europe;

Full transparency of the workflow;

On the wave of new and changing trends;

Offer customers a realistic immersion experience;

Going beyond standard business models;

Quality and continuous improvement;

Thoughtful mission and values.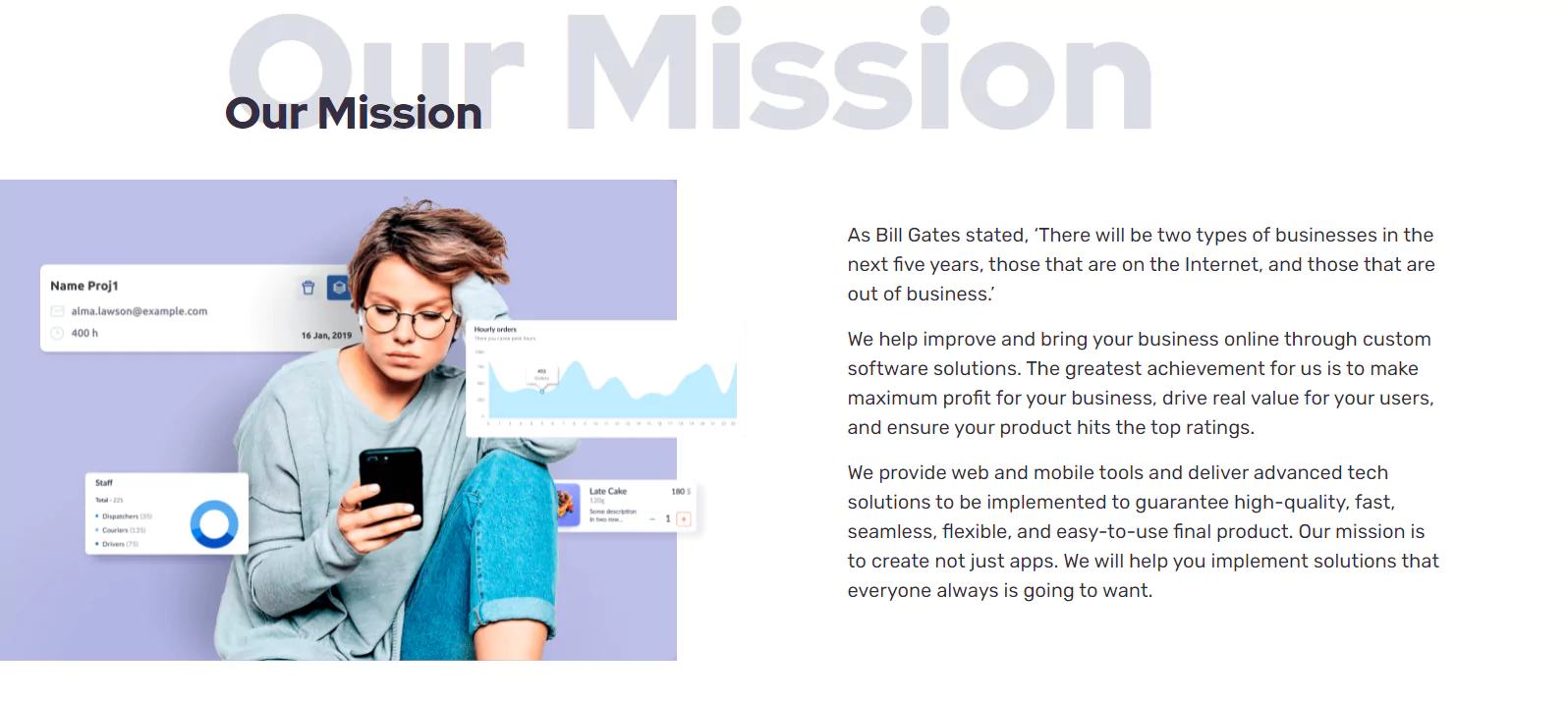 It is important to determine the benefits of the project before starting a link building campaign. This will allow you to write engaging content and USPs that will encourage the audience to go to the site.
Parallel work with the project on the part of the client:
Website redesign at the beginning of 2020. Released literally immediately after five months of cooperation with Brandcitations. After analyzing the usability of the project with Hotjar, they completely changed the design and structure of the project (added a couple of sections, focused on cases, put the blog in order). 
In connection with the redesign we immediately carried out most of the work on the technical and internal optimization of the entire project (some tasks are still in progress, among them Core Web Vitals, work is progressing only if developers of third-party projects have free time).
Then Covid-19 came in March 2020 and the customer reduced the lion's share of the budget for promotion (namely, link building — outreach, crowd marketing, SEO services, advertising purchases in Google Ads). In this regard, it was necessary to completely rebuild the strategy for promoting the project. 
In fact, in budget-free conditions, a bet was made on the development of content marketing. Thanks to the staff of copywriters, we were able to consistently publish blog articles and conduct SEO refinement of existing articles.
And also for the expansion and development of the project in general: 
technical optimization;

adding new cases to the site;

development of email marketing;

free link building methods: guest posting, medium platforms,

strictly thematic directories (with good parameters and no spam), social media.
The tasks that the client set for Brandcitations:
High-quality dilution of the link profile with anchorless links (80% to commercial pages, IT services and 20% to the blog);

Increasing brand awareness in

market;

Increasing positions in the TOP-10 Google for branded keywords

.
Additional factors influencing the promotion of the project
Wide geography of the audience.

Should have covered the entire English-speaking segment. Worked in priority with US sites, as well as France, Germany, Great Britain, Australia.

Niche competitiveness.

The scope of the OpenGeeksLab IT project is very competitive.
Stages of Brandcitations' work with OpenGeeksLab
Analyzed the site's link profile and indicators;

Identified and analyzed the direct competitors of the IT business;

Determined the most appropriate link building methods for the site from the available ones;

Highlighted keywords and pages for link building;

Compiled a strategy for promoting an IT company with links;

According to the strategy, the number of links was distributed by methods for the first period of work;

Approved the list of anchors and near-link text;

Approved the parameters for the selection of domain sites;

Placed the first links and validated them with the client, made adjustments;

Systematically placed the full volume of backlinks;

Prepared a detailed report for the selected period of time.
Link promotion methods that were used for this IT project
The tasks of the OpenGeeksLab project throughout the entire period of cooperation with it were solved with the help of competent crowd marketing – posting useful recommendation posts on forums, Q&A sites and under thematic articles with the possibility of commenting.
Distribution of the number of links by terms and methods (pivot table)
Work period

Link building methods

Amount of placed links

August-early September

2019

Crowd marketing

40

September-October

2019

Crowd marketing

50

October 2019

Crowd marketing

50

November 2019

Crowd marketing

80

December 2019

Crowd marketing

60

Total

280
Requirements for sites for placement: standard:
Site traffic from 9,000 visitors per month.

Thematic at the discussion level.

Relevance and liveliness of the thread.
IT company promotion results for 5 months
A year after cooperation, thanks to the accumulated link mass and other work carried out, SEO traffic on the project grew from 400 visitors per month to 1,900 visitors per month and has risen to 50% of the total traffic (at the beginning of promotion using the new strategy it was 25%). Became the fastest growing traffic channel, respectively, lead generation from this channel increased by 30% (sales qualified leads) over the same period.
Growth of unique referring domains + set positive dynamics (data from Ahrefs)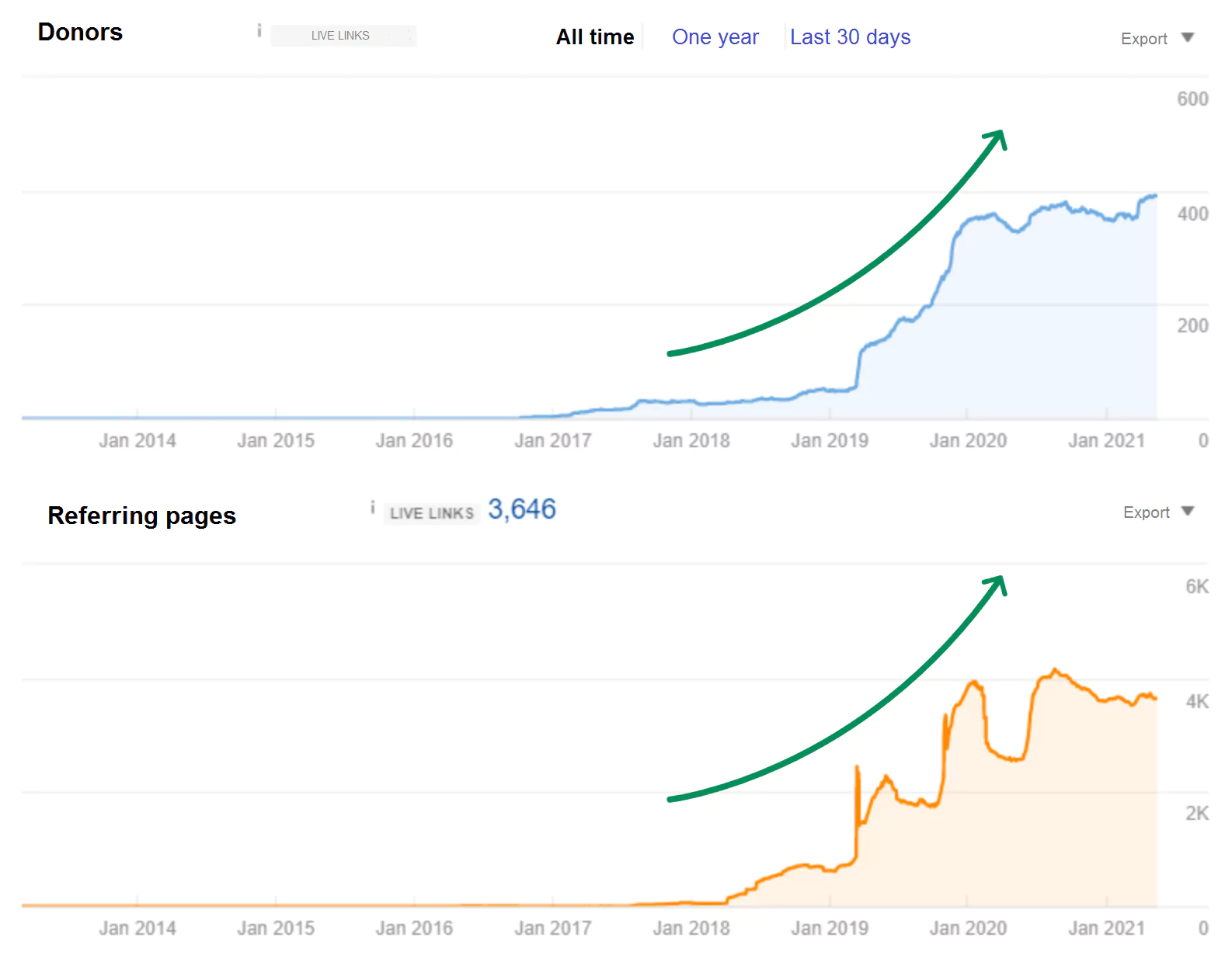 Growth of traffic from 400 to 1,900 visitors per month: comparison July 2019 and December 2019 (data from Google Analytics, Google Search Console)


Growth in the number of organic keywords and belonging to the target region (data from SemRush)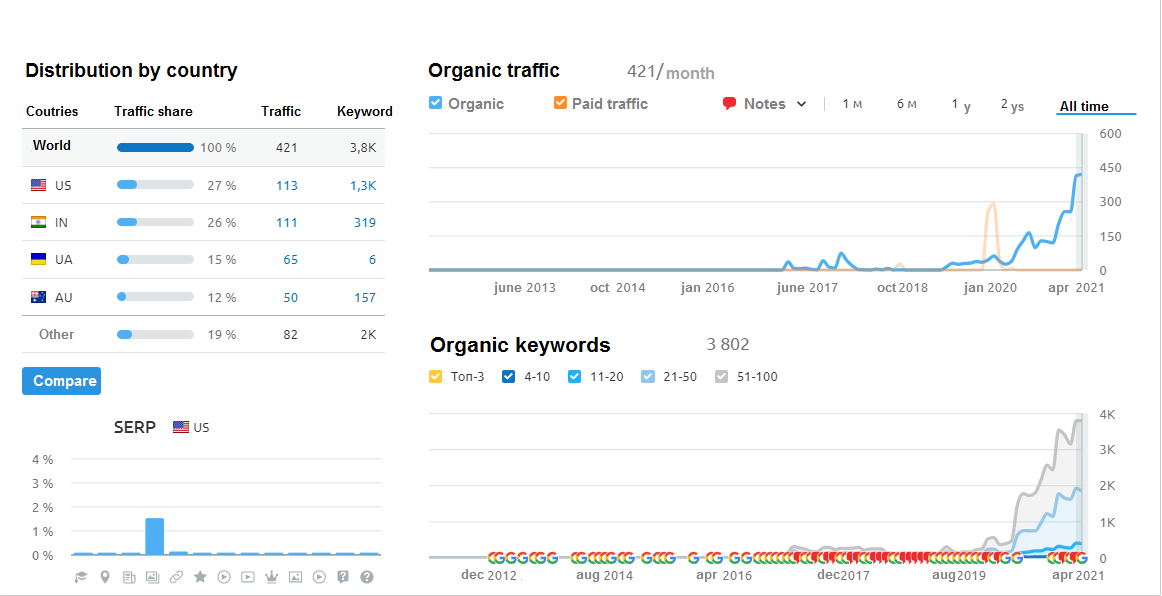 Dynamics of traffic and keywords (Serpstat data)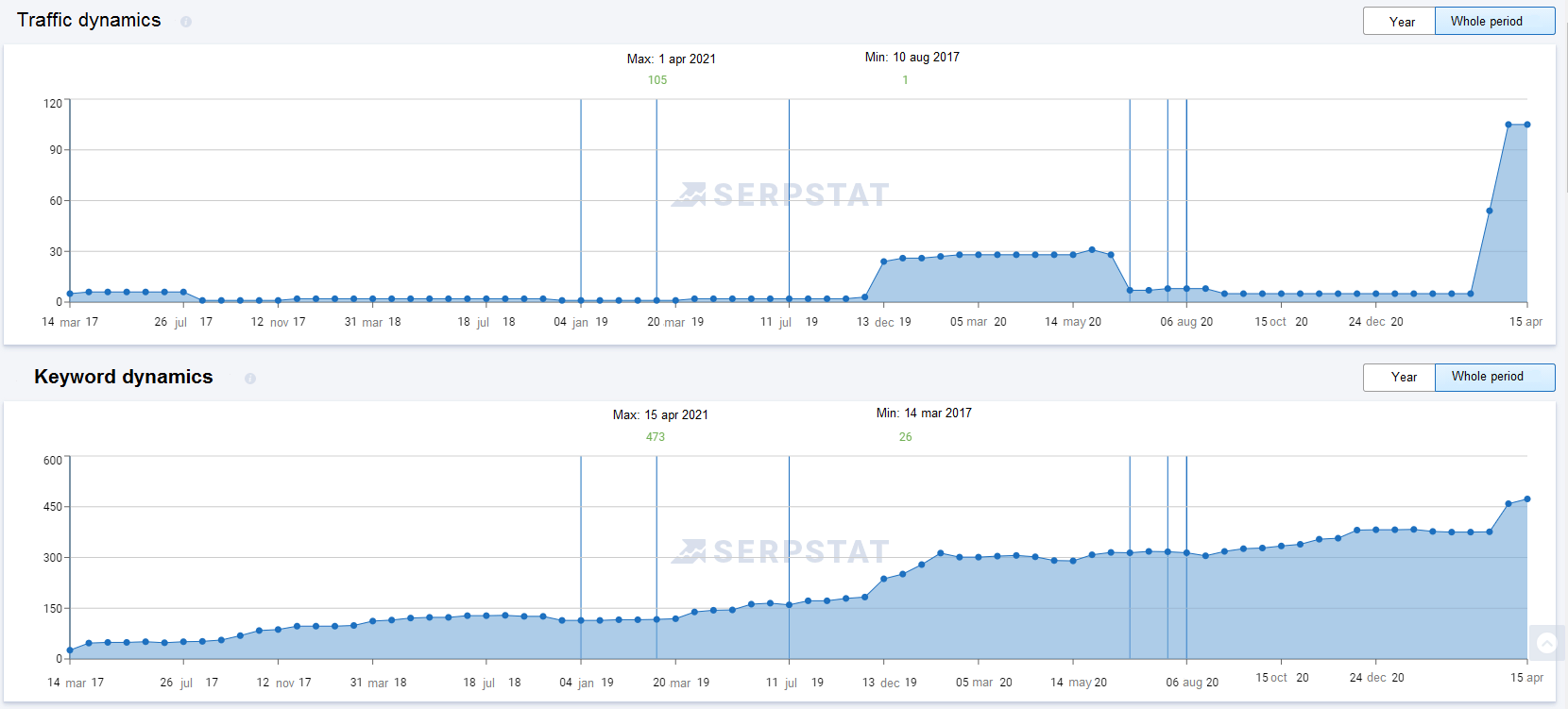 Why the work was stopped: due to the limited budget for link building.
What could be improved in the strategy
Effective website promotion in search engines requires a comprehensive approach and regularity.
What types of links could be added
In addition to crowd marketing links, the following would also work great for this project:
Links from catalogs and directories.

If you select high-quality domains and post detailed information about the company, then this method will bring several dozen worthy links to your profile.

Links from social profiles.

And here we are not only talking about social media, these can be links from profiles of freelance sites, for example.

Links from guest posts.

Here it is important not only to choose the right domains, but also to write competent, interesting content. If the site is not new, then you need to understand that this method will be effective on constantly growing volumes. 
Of course, all methods of link promotion bring the desired effect if you work with them on a regular basis. Link profile stagnation or negative dynamics should not be allowed. 
If you want to beat your competitors and get into the TOP, but you don't have the time, energy and desire to search for quality sites, create profiles, write content, etc., you can always contact us. We have the right solution for you — the comprehensive link building service from Brandcitations.

As part of this "complex link building" we will:
help define goals;

analyze direct competitors; 

prioritize site pages;

form a competent promotion strategy using white hat link building methods;

analyze and help you create the right anchor list;

establish a stable production process;

create a detailed performance report.
To order a comprehensive link building service from Brandcitations, just write to managers in a chat 😉
Conclusion
Promotion of projects by crowd marketing brings results in the long term. If you responsibly approach the selection of sites for posting comments and writing posts, then future performance will pleasantly surprise you. The main thing is to be patient. You will see the first significant figures only after 3-6 months of work. 
And remember that you need to promote sites in a complex way. You can start with submissions, crowd marketing and guest posts. These are the basic working methods. Then you can experiment and connect those methods that are most suitable for the theme of your project.
Our client, IT-company OpenGeeksLab, for 5 months of crowd marketing to markets was able to dilute the link profile with high-quality non-anchor links and set the overall dynamics, which subsequently led to increase of SEO traffic by 4.7 times😃
Do you also want to get this? Just tell us about your tasks and we will definitely help you solve them with the help of competent complex link building💪