Increase Brand Awareness In A Right Way: Implied Links and Mentions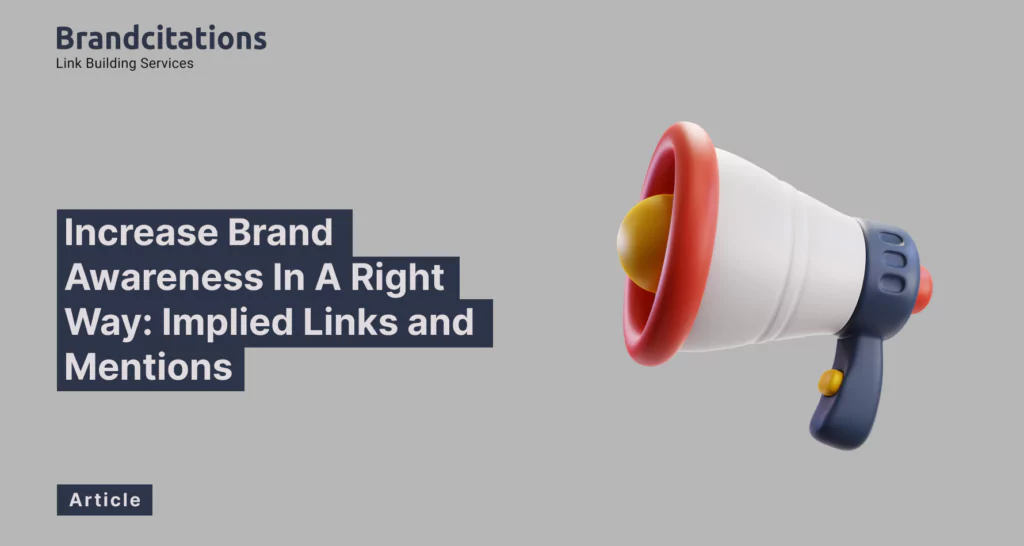 A lot of businesses still don't know what is a fast and safe strategy to get an organic brand visibility online. How not to be penalized or banned in search engines and get customers flow. Interested how to increase brand awareness in a right way? Let's dive into.
Rolling out algorithms like Penguin, Google's goal is to decrease a value of "gray hat" link-building strategies that allowed to get faster visibility growth for new websites, products, or startups or get higher rankings results for low quality websites.
Here is a citation from recent SEMPRO Club meet-up with googles from search quality results department in Dublin in Kiev Andrey Lipattsev:
Google ignores up to 95% of links. Do not spend money on low-quality blog post submissions, link farms or buying links on link broker websites like Sape. It's so easy for us to recognize link patterns and disavow their value. It's better to invest those assets in increasing quality of website, product that would lead to increasing brand awareness naturally.
So, it's clear that search engines push businesses to natural link-building that is earning or acquiring links as acknowledgement of service quality, uniqueness or its advantages. Or Eric Ward link-building style that would work too but costs a lot due to amount of consumed time.
So what new businesses should do to increase brand visibility in search engines results without being penalized sooner or later?
Disclaimer: Provided tactics below are not pure spam on social networks or forums, as it has been for years. The main goal of all tactics is to help people in first using personal or brand expertise and get brand mentions, follow and implied links as an additional bonus for a well-done work.
Is brand mentions a new "link-building" strategy?
Brand mentions or "implied links" could be a part of Panda algorithm keynotes that are mentioned in patent registered by Google, described in Simon Person research at MOZ.
It's clear now that Google can associate some brand queries (reference queries) with the website. Once visitors type-in brand queries and click on a site results, connections are made, and the search engine starts associating unlinked brand mentions (citations) as "implied links".
According to the above-mentioned statement, brand mentions could be used for measurement of website authority. High-quality brands tend to have more brand mentions online (linked or unlinked) that could be used as a visible website authority factor.
To say in easy words, in order to increase online brand awareness for a new product, service or startup, businesses need to pay attention to increasing the number of brand mentions. No matter, linked or unlinked. This strategy allows getting website visibility in an organic way without violating Google webmaster guidelines.
P.S. If you want to transfer some brand mentions into links, follow this strategy.
Crafting perfect online brand awareness strategy
There are tons of ways to build brand awareness online. I would recommend you to start from reading guide from Neil Patel about personal brand developing. There you can find decent strategies that could be used for developing brand awareness for any business or startup.
Let's describe main tactics that you can try to create brand recognition:
Infographics. Just include your brand name just under main graphic content. If the infographic is useful, people will definitely search for your brand name to find out more related information.
Guest posts. Allows to build personal expertise and promote your business.
Content syndication. Allows a broader audience to learn about your brand.
Influencer marketing. Try to network with influencers in your niche, show the benefits of your product, how it can help them in a daily life, etc. More details on how to manage this here.
Forum link-building and brand mentions. One of the best ways to show an expertise in your niche. Show how your business would be useful for a target audience. This channel is very powerful and if done right can generate leads and sales.
Q/A sites. Very powerful tool for creating first brand mentions. It's very easy to become useful answering their questions and proving real value.
Blog comments
Still can be used for creating unlinked brand mentions. Keynotes: do not spam or promote too much, choose niche-leading blogs with audience.
Some of these tactics could be called guerrilla marketing tactics. Guerrilla marketing is a marketing strategy designed for small businesses to promote their products or services in an unconventional way with little budget to spend.
Using the above listed tactics, especially brand mentions on forums and answering questions on Q/A sites, is an affordable and natural way to improve brand recognition for a new service or product and even generate leads. Furthermore, those links (express or implied) would have a positive influence on your SEO due to natural looking link profile and brand mentions.
How to utilize online guerrilla marketing tactics, what tools to use?
Buzzbundle. Paid tool that allows to monitor topics (on forums, blogs, social networks) you are interested in and answer on any of them directly from Buzzbundle software. Using this tool allows you to save time and get rid of routine tasks like keeping in mind all your social accounts, etc.
Google Alerts. Free tool from Google where you can adjust notifications to your email whenever topic you are interested in pop-ups online. So you can easily jump into conversation there (help people using your experience, promote your service or product, build relationships, etc.). Works great for online reputation management. Using Google Alerts you will find the latest brand mentions and would react faster than ever.
Talkwalker. Social data intelligence tool that allows to track, analyze your brand activity on social networks and all over the web.
Developing brand awareness case study
Case is provided by BrandCitations.com.
The goal – increase brand name awareness and traffic.
The tactic – answer people questions and mention new brand name without linking to website.
The result – 15% up after 1 month of work.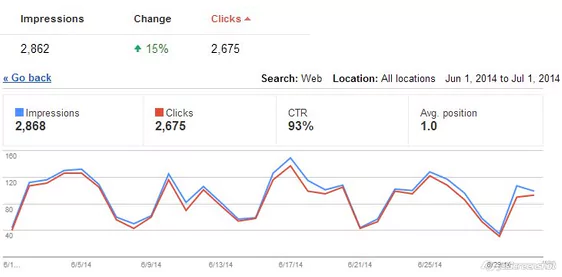 If you have no time for improving online brand awareness by your own, my advice to outsource it to brandcitations.com.
Offline
This channel is more used by big brands or brick and mortar small businesses. I will count a few most often used techniques:
Coupons, Giveaways;
Print marketing;
Signs, Banners;
Conferences, public events;
Networking;
Word-of-mouth.
Sources for additional reading — http://www.cision.com/us/2015/03/what-is-word-of-mouth-marketing/.
Utilizing these offline activities will lead to improvement of online brand awareness as well. People will start discussing your product, service online.
Easiest way to measure brand awareness online
1. Use Google Webmaster Tools. Track the volume of brand searches using data from Search Analysis report.

By the way, do you remember case study before? That's the same site a year after, developing brand citations bring more than 4 times (400%) more brand searches online.
2. Use Google Trends. Track the graph of popularity for your brand keywords. Crazy Egg example.
By the way, one more citation from Andrey Lipattsev from Google web results quality team (video in russian):
Yes, guerrilla marketing or crowd-marketing (aka brand mentions, expertise answers on forums and Q/A sites) works for businesses. Businesses need to go to discussion boards and have a conversation with the target audience, help them. There is nothing wrong. We support that.
So, that's all. Now it's time for you to think it over and start following this online brand awareness strategy. And if it's done correctly, you will definitely reach your goals.
Have additional questions, have no time for doing it yourself? Get in touch with me.
Other publications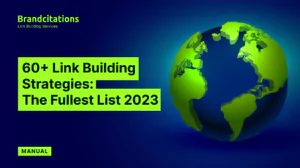 This post presents the most effective link building methods which you can implement independently. These tactics can...
Read more