Guerrilla Marketing. Infographics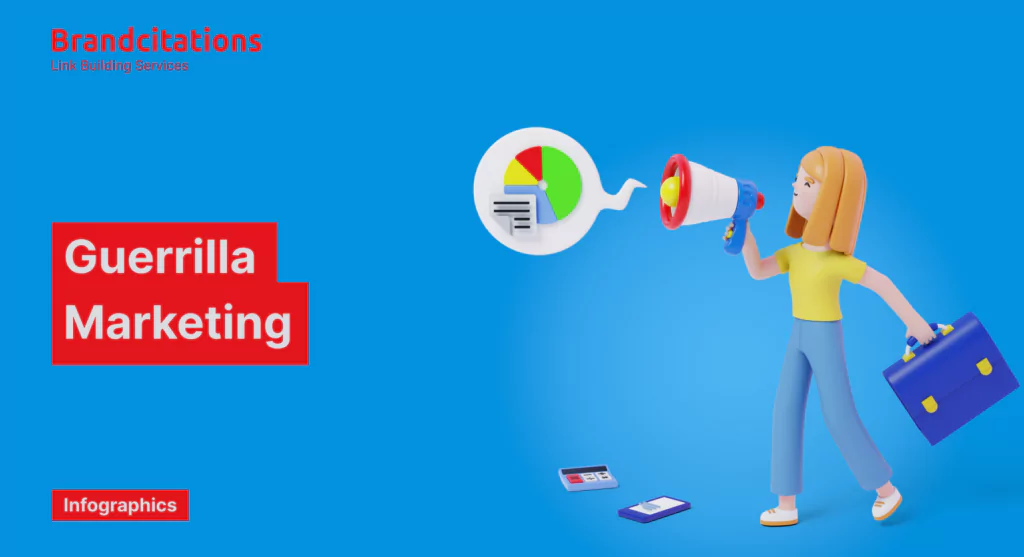 Guerrilla Marketing — an effective tool for the promotion of Internet projects by indirect communication with the target audience in a particular location. "Indirect communication" refers to an indirect recommendation of a desired project without a direct sale.
In this article, we will answer the following questions:
Who needs this tool?
What is the mechanical construction of Guerrilla Marketing?
Who implements guerrilla marketing?
What results can be obtained?
The infographics and comments below will help to understand these questions.

What is Guerrilla Marketing?
It is one of the marketing tools to effectively and relatively inexpensively convey information about a product, a brand, or a website to the target audience.
This tactic can be useful for…
Guerrilla marketing is a flexible tool suitable for a large number of types of web projects:
SERM, PR, Full-cycle Marketing Agencies: Guerrilla Marketing is undervalued. Agencies rarely offer it to their customers due to the complexity of its implementation, but the usefulness of this service simply asks to be conveyed to the final user.
Big brands: PR departments can deal with not only reputation management, the creation of the need for information, but can also implement Guerrilla Marketing.
Start-up projects: Tell everyone about your new product, a natural desire for start-ups. GM is a very convenient tool in terms of ROI.
Online stores: With the right approach, it is enough just to get costs below those of contextual advertising and other advertising channels.
Product companies.
How to do it?
Target audiences can be reached in the following ways:
In blog comments
In forums
Through the use of social networking sites
In other public places
Important! It is necessary to explore the webspace, to understand exactly where your target audience is, rather than aiming your campaign at people who have potentially low interest in your project.
The subtleties of the process
It is necessary to create accounts to develop their sites related to the interests of your potential customers. Developing profiles should be taken seriously as possible, as new accounts have a much lower credibility in the eyes of readers. Also, it is possible moderators may ban your account. Do not seek to sell the "head", try to provide in demand consulting services.
Daily monitoring of webspace
Keep track of the key questions and participate daily in the discussions that are related to your niche. There are a large number of tools for tracking webspace. For startups, suitable manual search forums, blogs, and articles in Google on specific topics, e.g., gifts for children.
Communication with the target audience is important. It is necessary to communicate with the real network users who may need your services. The forums and services question/answer communication is based on what the user is interested in, e.g., gifts for children, and creates a theme which asks a question. Your job is to answer it so that the user has come to your site and carried out a specific action. For online shops, the ideal action is to order the product
Blogs and articles can be considered products or services of your competitors. In this case you should mention in the comments all the disadvantages of competitors´ products and offer products from your site, thus highlighting the advantages of your products (These comments take time and should really be recent and not be far-fetched OR A clear advantage, but these comments should be recent and not far-fetched)
Who can do it?
There are two ways of doing it. The first is, perhaps, the hardest way, which only well-known major brands can afford – is an in-house department.
Goodies of in-house Department
1. High control. You can control every movement of your department and adjust the job at any moment.
2. Understanding the product. Who except your team and you know more about your product? This will in-house department have some advantage over the side of the team.
Advantages of an In-house Department
High control: You can control every movement of your department and adjust the work at any moment.
Understanding the product: Who is another than your team, and you know more about your product? The in-house department has some advantage over outsourcing.
Disadvantages of In-house Department
1. Long-term team training: The technique of guerrilla marketing is not as simple as it might seem at first glance, and with open access, no examples of guerrilla marketing are usually found. Therefore, you and your team have to experiment, try different approaches and strategies, and it is time, and time – is money.
2. Large start-up costs: These include:
Recruitment
Training
The Department's technical equipment
The administrative costs of management, if you want to build a great team
The costs of monitoring Web services space.
3. Heavy growth: Supervising a team of 5 people is quite easy, but for major brands, it is not enough.  With the growth of the department to 30–40 people you will need to have a 2–3 managers, 1–2 specialists who can teach beginners, a head of the department, a system administrator and various other staff.
Conclusion: Having your own department is effective, but involves a lot of expenses. Having an in-house department is a possible solution for major brands that have enough budget to manage them.
The second option is outsourcing. It means giving the task to professionals who specialize in guerrilla marketing.
Advantages of Outsourcing
Fast start: This means that to get started all you need to do is to contact the company, and then fill out an application and the process has started, which can be quite comfortable.
Workload: These companies are able to carry out hundreds of projects per month because there is a huge team of 100 – 500 workers.
High expertise on the Internet.
Disadvantages of outsourcing
Studying the product: You will need to take the time to convey information about the promoted product.
Reducing control: Default outsourcing has less control, but debugged processes, you as a customer will not have any problems with the control.
Conclusion: Outsourcing is a cost-effective solution to save time and get desired results.
What is the end result?
Brand recognition
Engaging your target audience
The growth of organic and referral traffic.
Are you using Guerrilla Marketing?
Other publications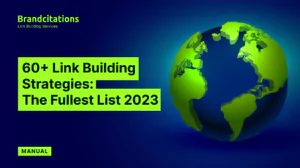 This post presents the most effective link building methods which you can implement independently. These tactics can...
Read more